Why Guatemala ??
Guatemala is the kind of place travelers fall in love with and never want to leave. The pace is slower, less hectic. It's a small country bordering Mexico and is known as 'The Land of Eternal Spring' because year round temperatures average 70 degrees F. during the day and 50 degrees F. at night. A great advantage during the winter months for those of us from northern climates!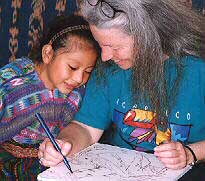 Discover Antigua
Antigua, spectacularly surrounded by three volcanoes, Agua, Fuego, and Acatenango, has been an educational and cultural center for centuries. Its first university, Universidad de San Carlos, was built in 1676. Cobblestone streets and colorful bougainvillea spill over rocks of century-old ruins and provide daily inspiration for artists. Antigua is a small town, but with an international flavor - which means ATM machines, good restaurants with menu's in English, cappuchino machines and a wide variety of languages heard on the streets.

Our workshop classes are held four hours each day, most often in the mornings. This gives our participants time to explore Antigua, study Spanish, work with their craft, or perfect the fine art of hanging out in a hammock. There are plenty of things to do!!

For those who are athletically inclined, mountain biking, hiking, or climbing one of the many nearby volcanoes is a challenge. There are also many wonderful volunteer opportunities if you are the do-gooder type. You may wish to spend an afternoon playing with children at an orphanage, or help construct a clinic at a nearby mission.
Spouses and/or friends are welcome to come along. They may stay with you and join you for field trips on most workshops. They simply deduct US $300 from the total package cost.
Most of our classes travel to Lake Atitlan, which means 'abundance of water' and is less than three hours away from Antigua. It's a breathtaking sight, particularly in early morning and sunset light. Here volcanoes rise out of the early morning mists to inspire artists, whatever their medium.
For those who choose to extend their stay, Tikal, the most spectacular city in the ancient Mayan world, can be reached from Guatemala city by air in about an hour. The Rio Dulce sports yachts and jet ski's with lush jungle, intermingled with thatched roof huts, along it's river beds. It's all diverse, exciting, and nearby.
Traditional and Colorful
Many of Guatemala's indigenous population have retained their traditional heritage and continue to dress and live as they have for centuries. Women weave their family's colorful clothing, called 'traje'. Each village boasts it's distinctive 'huipil' which identifies where it's wearer is from. This is particularly true in the central highlands, where Antigua and Lake Atitlan are located.
Life is difficult for many. But Guatemala possesses a contentment, a joy in living, that many of us from more harried, technical worlds can learn from.

Art Workshops in Guatemala &nbsp Email: info@artguat.org Phone: (612) 825-0747