Faculty Directory
Marian Alstad -- Marian has taught watercolor for over 15 years, including workshops in Taos and Santa Fe. Her love of the medium is evident in her versatile teaching methods as well as in her award-winning paintings. Marian studied at the University of Minnesota and with many nationally-known instructors. She is well-traveled and enthusiastically brings out the best in her students, whatever their skill level. You may email Marian directly at: mardi4011@aol.com and to take a look at some of her work www.artbymarianalstad.com .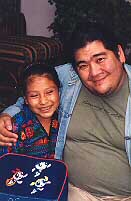 Doug Beasley -- Doug is an artist who makes his living as an advertising and editorial photographer in Minneapolis. He received a BFA from the University of Michigan, Ann Arbor, where he also studied Eastern Religions and Native American Culture. Both his personal and commercial work have been exhibited nationally and published internationally. In addition, he is the founder and director of the Vision Quest Photographic Arts Retreat Center in Wisconsin. You can take a look at some of his work via his web site Douglas Beasley Photography. Doug lives in a small wooden house in St. Paul, surrounded by trees, where he tends his Japanese gardens. He is a lover of late night discussions and strong morning coffee. Personal heroes include Lao Tsu, Jimi Hendrix and the Dali Lama. Email: doug@douglasbeasley.com.
Kit Davey -- Kit is a visual artist, teacher, interior designer, columnist, essential Feng Shui practitioner and life coach - WHEW !! She is definitely one of our more versatile and high energy instructors, with the wonderful advantage of speaking rapid fire and accent free Spanish. Kit has worked with collage and mixed media for over 20 years with the goal to "create delight by combining found objects, ephemera and paper to tell a new story." She is a popular instructor and her students appreciate her enthusiasm and willingness to share her talents and skills. Kit began her career as a bilingual third grade teacher, but then studied interior design to help better restore her "fixer upper" home, which led her into 'creating beauty, harmony and order' in people's homes via her successful business, A Fresh Look. Kit also writes a nationally syndicated design column for "Content That Works" and the "Palo Alto Daily News". Kit's email address is: kitdavey@aol.com and her website is: Found-Object-Art.com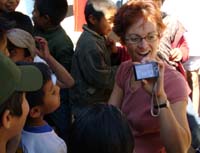 Sharon Doubiago -- Sharon is a gifted teacher and prolific writer (she has 14 published books!!) She recently completed her memoir MY FATHER'S LOVE/ PORTRAIT OF THE POET AS A YOUNG GIRL, and her latest book, SON, was 20 years in the making. She received her third Pushcart Prize for BODY AND SOUL, and SOUTH AMERICA MI HIJA, was nominated twice for the National Book Award. EL NINO and THE BOOK OF SEEING WITH ONE'S OWN EYES - both collections of short stories - are in their second printings and HARD COUNTRY was recently reprinted. THE BOOK OF SEEING WITH ONE'S OWN EYES is in the list "100 Books of Oregon Literary History, 1800-2000." She's won numerous awards, including the Woman Writer Genius Award, Gloria Steinem's Woman Writer Award, the Oregon Book Award and twice received a California Arts Council Fellowship to complete works in progress. You can find out more about Sharon and her work at Online Mentoring University of Minnesota. Sharon currently lives and works in Berkeley and Mendocino, and as always, on the road. Here's her web page: Sharon Doubiago. Her email is: sharondoubiago@yahoo.com .
Deborah Du Flon -- Deborah is a Guatemalan artist whose work has shown in New York, Conneticut and Florida in addition to most of the major galleries in Guatemala. She studied at Smith College in Massachusets, the Academie Julian in Paris, the Metropolitan Museum in Coral Cables, Florida and the Universidad de San Carlos in Guatemala City. She lives in Guatemala and Florida with her daughter Yamreij. Her email is: debduflon@yahoo.com .
Liza Fourré -- Liza is the founder and director of Art Workshops in Guatemala. She spent most of her career as a commercial photographer specializing in environmental portraiture for editorial and corporate clients. Photography assignments took her to Brazil, India, Australia, England, Portugal and Morroco. Her personal work is documenting lifestyles in third world countries and then converting those images to an art form via polaroid transfer. She and her daughter Jessenia, and son Tommy, divide their time between Antigua and Minneapolis - which is quite a trick, let me tell you. Liza's email is: fourre@artguat.org. or take a look at her photography work here: www.lizafourre.com .
Susan Frame -- Susan is a nationally-recognized and award winning Sumi-e painter. She's studied in both China and Japan under teachers Lu Yen Shao, Zhuo He-Jun and Wuscious Wong. Susan has taught for over 25 years, using the mountains of Alaska, the islands of Pueget Sound, the gardens of Florida and now the natural beauty of Guatemala to inspire her student's work. Her instructional (and GORGEOUS!) book - Japanese Ink Painting, A Beginner's Guide to Sumi-e - is published by Sterling Books. Susan's email is: susanframe@live.com or take a look at her work here: www.susanframe.com . .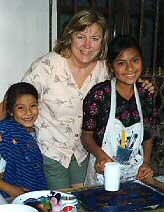 Kim Grant -- Kim Grant is a Minnesota artist, instructor and writer. Her art represents a variety of mediums and styles ranging from textural and geometric shapes, to color layering, collage and beyond. Some of her more sophisticated pieces create the illusion of being metal, even though they were transformed from paper. She's an experienced instructor, having taught workshops in Thailand, Vietnam and France and has many articles published on her artwork and techniques in a variety of magazines. Kim's work is represented in fine art galleries and collected by corporations and private clients nation-wide. Her email is: kimgrantart@me.com or take a look at her work here: www.kimgrantdesigns.com .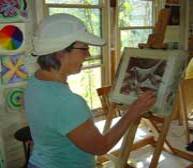 Kathleen Grittner -- Kathleen is an artist, a soul searcher and a natural teacher. After graduating in studio arts with a concentration in printed textile design from Mount Mary College in Milwaukee, she spent years teaching art to people of all ages in addition to creating and selling her own work. Through this, she discovered that making art helped her better understand herself and the world around her, and also that the arts have a healing quality. So she returned to school and received a masters in art therapy from Vermont College. Kathleen was introduced to SoulCollage® by a fellow art therapist and found the process so creatively satisfying and useful that she became one of now thousands of SoulCollage® facilitators worldwide and has been sharing the process ever since. You can learn more about Kathleen and her work at her retreat center at: Full Circle Retreat.
Betty Hahn -- Betty is a writer, artist, instructor and filmmaker. Since she was a high school exchange student in Mexico in 1972, Betty has been finding artistic inspiration in the indigenous cultures of Mesoamerica. Between trips to Guatemala, Belize, Mexico and Honduras, she received her MFA at San Diego State University and has taught in the arts, creative writing and women's studies at Radford University, Mesa College, San Diego State University and currently at Virginia Tech. Her documentary film, My Battle of Blacksburg, premiered at the Duke University Center for Documentary Studies. You can reach Betty via email: Betty Hahn.
Roseann Lloyd -- Roseann is a poet, editor, nonfiction writer and experienced instructor. Her most recent book - WAR BABY EXPRESS - won the Minnesota Book Award for Poetry in l997. She coedited the book LOOKING FOR HOME: WOMEN WRITING ABOUT EXILE, which was awarded the American Book Award from the Before Columbus Foundation. Her first collection of poetry, TAP DANCING FOR BIG MOM, is now in its second printing. She teaches at several colleges in Minnesota as well as a long-standing private class. Roseann's email address is: roseannlloyd@hotmail.com.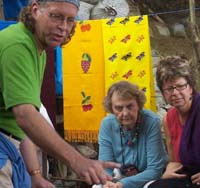 Richard Nelson -- Richard is an artist, photographer and collector of Mayan textiles. His passion for backstrap woven textiles began in 1973 while studying in Tlaxiaco, Mexico. The experience changed his life and documenting the ancient ruins, architecture and indigenous cultures became his artistic focus. Richard spent 23 years as a designer for Macy's (first Dayton's, then Marshall Fields) by day, but his heart and soul are with the indigenous cultures of Central America, where he collects textiles and photographs the people who produce them, while also capturing personal, abstract images of daily life. He's just published a wonderful article on Mayan textiles in Two and Ten Magazine. . He also curated the Goldstein Museum of DesignÕs exhibit called: Maya Textiles from the Guatemalan Highlands.. It was a 30 year retrospective of color images and backstrap woven textiles from his private collection. You can learn more about his work at: Richard Nelson Design. or contact him at richardenelson1@me.com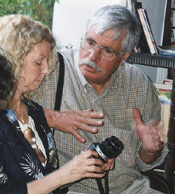 Steve Northup

-- Steve began his photographic career in 1962 when he joined UPI in San Francisco and continued to work with them in Miami and Saigon. He then joined the Washington Post for five years before moving on to Time Magazine - where he was on staff for 20 years. He's the recipient of awards from both the National Press Photographer's Association and the White House Photographer's Association. He now works as an independent photographer and is represented by Black Star Agency in New York City. He was a Nieman fellow at Harvard in the mid-70's and has two books: SOUTHWESTERN INDIAN JEWELRY, published by Abbeville Press and NAGA CITIES OF THE MEKONG, a guide to the temples, legends and history of Laos. After roaming the world, Steve returned to his roots in New Mexico, and now lives with his family in Santa Fe. His personal work is photographing the indigenous cultures of the southwestern United States. You may reach him at SNorthup@aol.com or you can see his work at: IMMF.ORG/stevenorthup.

Judy Olausen Judy's photographic career has always featured portraiture. For over 20 years as a successful commercial photographer, she has shot innumerable CEO's, and such notables as Prince Charles, Princess Di and Andy Warhol. But recently, her portraits have taken a more light-hearted and personal turn. Her book - MOTHER - a collection of 50 images of her 74 year-old mother, Vivian, sold out in three days and made the NY Times bestseller list. Judy's been featured on many TV shows such as Oprah and Eye To Eye. To learn more about Judy and see her work:

www.olausen.com. Her email address is: judy@olausen.com.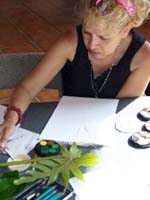 Cynthia Padilla --Cynthia is an accomplished artist and enthusiastic traveler and teacher. She declared herself an artist when she was two years old. Since then, she's never wavered from that path, studying surface design and following her curiosity, training, education and passion into the botanical arts. She has sketched rare orchids in Thailand, wandered abandoned courtyards in India, and traveled the Central American rain forests to document its flora and fauna in sketchbook journals. She makes her living as a botanical artist, but her Latin cultural heritage (her father is from Honduras) and her upbringing in an artistic environment (grew up in the garden district of New Orleans) endowed her with a curiosity and passion for all kinds of art. Her family home was always filled with religious figures, altars, wooden carvings from all over the world. Cynthia is one of those positive, encouraging instructors that students love to learn from. Her teaching style is always supportive (as is her great attitude toward life !!) To learn more about Cynthia artinstructor.blogspot.com/ or see pictures from her previous Guatemala workshops Nature Sketching 2008 and 2009 . You may email her at: artistedu@gmail.com.
Sheila Parsons - Sheila has been a professional artist and workshop instructor since 1976. She and her manager/husband Richard offer travel/study opportunities all across the USA and in many foreign countries. Sheila is the daughter of an artist and musician, so consequently she grew up surrounded by art and artists. She decided at a very young that she would be a painter and teacher of painting. She received her masters in art from Pratt Institute in New York and has since then studied with the greats in the watercolor field. Her mentor, Milford Zornes, tutored her in both painting and living as a traveling artist teacher. Most of her paintings are done on location or from sketches she has done in the field. To learn more about Sheila and to see her work, check out her web page:

www.sparsons.com. Her email address is: sheila@sparsons.com.

Olga Reiche --Olga, whose German grandfather moved to Guatemala and married an 'indigena' from Coban, grew up in Guatemala City and studied social work. She specialized in community development and began working with widowed women's weaving cooperatives in 1987. She opened a store in Antigua called OJALA to sell their textiles and her interest in the fiber arts has been growing ever since. In 1990 she met Ana Roquero, a Spanish author reasearching a book on natural dyeing with plants found in the Americas. Olga helped her with her research and since then has become an expert on natural dyes and Guatemalan textiles. She's had a variety of retail textile stores in Antigua and most recently founded the INDIGO Textile Center in La Azotea. Olga's email address is:

olga_reiche@hotmail.com .

Elda Lidia Tarton de Santos -- Lidia is an excellent weaver who lives with her husband Pancho (our old fletero (pick up driver), their children and an enormous extended family in Santa Catarina Barahona, a small village (aldea) just outside Antigua. Lidia and her sisters,Carmelina and Odilia, and now daughters,Isrealita, Sindy and Jacqueline, all teach weaving for us. We also hire as them as models for our photography and painting classes. There is no doubt in my mind that they are by far the most photographed family in Guatemala !! If you are interested in purchasing any of Lidia's weavings, email me, - Liza Fourré - at

fourre@artguat.org.

Karen Searle -- Karen became an expert on Guatemala and its weavers while researching her books, Latin American Brocades and Finishes in the Ethnic Tradition and collecting artifacts for the Science Museum of Minnesota's Mayan collection. She is a fiber and mixed media sculptor and regular contributor to many arts magazines, including FIBER ARTS and was on the founding board of Weave a Real Peace, an organization working with communities through textile craft development. Her latest book KNITTING ART, published by Voyageur Press, features profiles of 18 artist who use knitting as their artistic expression. Karen founded DOS TEJEDORAS PRESS and was the editor/publisher of the former WEAVER'S JOURNAL. She now lectures and exhibits her art work nationally and internationally. Karen has been an artist in residence, most recently in Australia, Mendocino, California and in her native Minnesota. You can see Karen's work at:

www.karensearle.com Karen's email address is: ksearleart@gmail.com.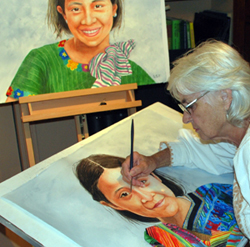 Sue Sill -- Sue is a life long artist who, among many other things, paints portraits of the indigenous people she so respects and admires. "My life has been guided by three equal passions - nature, art, and travel," she says. "My paintings of the indigenous people of Central America are how I honor their dignity, culture and struggles" Sue explains. Sue spent her career as a botanist, getting her PHD at Texas A&M University at College Station, and recently retired from many years of directorship at various botanical gardens. She lived for many years in Michoacan, Mexico where she still is involved with the project 'Forests for Monarchs' reforesting denuded mountainsides around the monarch butterfly over-wintering sanctuaries. Her work is exhibited in shows and galleries across South Texas. Her current works are largely portraits of indigenous women of the Americas executed in watercolor, and watercolor with pen and ink. Two of her paintings won Best in Show and First Place for Works on Paper at the Art Center of Corpus Christi. To learn more about Sue and her work, visit her website:

Sue Sill Fine Art . Feel free to mailto:sue.sill@sbcglobal.net email Sue with any questions about the workshop.

Sergio Solorzano -- Sergio is a 'real impressionist' painter specializing in landscapes, portraits, gardens and historical buildings. He was born and raised in Antigua, Guatemala where he began to develop his artistic talent at an early age winning awards in primary and secondary school. He studied at the Architecture School at the University of Guatemala and th School of Fine Art. He has lived in Canada since 1992 and is an accomplished artist and popular instructor in the Kitchner/Waterloo area. His email address is:

sergioasolorzano@hotmail.com.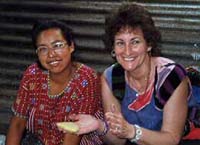 Hilary Simon -- Hilary is a trained theatre and costume designer. She works at GMTV Breakfast TV in London as a costume consultant. Her first love, however, is textiles. She paints on silk and exhibits her work extensively in galleries and at craft and art fairs throughout the UK. Her work has been produced as greeting cards, gift wrap and posters and is found in many private collections. Hilary enjoys travel and paints from these experiences. Her favorite destinations are Guatemala and Indonesia. Come join us and see why!!! Her email is:

hilary.simon@hotmail.com.

John Stottlemyer -- John is a photographer best known for his stunningly executed landscape photography, where he painstakingly waits for just the right light and composition to create his images. Yet he is just as passionate about the indigenous cultures he's recently photographed in Guatemala, Mexico, Peru and Ecuador. John's strengths are his calm demeanor, patience and ability to help students improve their photography with one on one suggestions while out on location shooting. He works well with people - both his photography subjects and his students.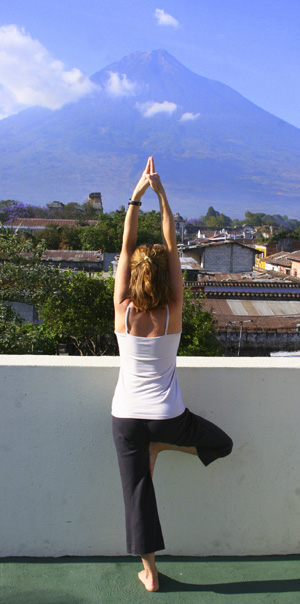 John graduated from the University of Minnesota with a BFA in drawing and painting (hence his strong composition skills) and worked for 30 years in corporate advertising and marketing communications as an illustrator, graphic designer, creative director and product photographer before transitioning into a full time career in his first love - making images and teaching photography. To learn more about John check out his website:

World View Photography.

Delia Sullivan -- Delia is a yoga instructor passionate about sharing yoga as a tool to expand ones life, encourage health and wellness, and bring clarity when at one of life's many crossroads, one pose at a time. Delia began practicing a vinyasa style yoga almost 15 years ago and was amazed by the transformation in not only her body, but also how it brought clarity and focus at a time she was making changes in her life. So she pursued training in several yoga styles, including Inyengar, Ashtanga, Viniyoga and most recently completed Therapeutic YOGA Training with Alturo Peal and Cheri Clampett at Pure Prana YOGA studio.

Delia teaches at Radiance Yoga where she creates a lighthearted environment guiding students to explore a mindful practice, meet physical challenges while encouraging compassion through self-acceptance. Delia has joined us twice in Guatemala for workshops and says she LOVES Guatemala for its color, indigenous culture and calm healing energy - a perfect place for a yoga retreat. She is one of those kind, encouraging souls that people love to be around. (Photo of Delia practicing on the roof of our hotel by June Geoffray). She is also a photographer and lives with her husband and children in Alexandria, Virginia. To learn more about Delia check out :

Delia Yoga Teacher and Delia Sullivan Photography .
Laurie Webster -- Laurie is an anthropologist (PHD University of Arizona Tucson) specializing in the weaving traditions of the American Southwest. She has studied Southwestern textiles at museums throughout the United States and worked with many contemporary Navajo, Hopi, and Rio Grande Hispanic weavers. "I really enjoy sharing the beauty of the Southwest with people and introducing them to the native cultures and remarkable textile traditions of the Southwest," she says.

Laurie co-edited Beyond Cloth and Cordage: Archaeological Textile Research in the Americas, and authored Collecting the Weaver's Art a book on Navajo and Pueblo textiles published by the Peabody Museum Press. In addition, she is a visiting scholar in the department of anthropology at the University of Arizona, a research associate at the American Museum of Natural History and also at the Crow Canyon Archaeological Center. So she obviously knows her stuff !! Laurie grew up in New York but then escaped to the southwest after college and has made it her home ever since. She loves travel (has been on three of our textile tours to Guatemala) and lives in southern Colorado where she works as a private textile consultant.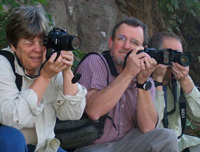 David Wells -- David is a photojournalist focusing on in-depth photo-essays, intercultural communications and the use of light and shadow to enhance visual narratives. He's received an impressive number of fellowships, including from the Nikon/National Press Photographers Association, the Pennsylvania Council on the Arts, the MacArthur Foundation's Program of Research and Writing on International Peace and Cooperation, the Alicia Patterson Foundation and most recently a Fulbright at the University of Mysore, India, for his project "Globalization's Mixed Blessings in India."

David is an experienced instructor who loves to teach. He sees it as "how I give back to the world and the world of photography." He's a high energy, east coast type of guy and our participants rave about how much they've learned from him, even if they are a bit exhausted by the end of the week. David teaches workshops nationally and internationally, and recently launched an online educational tool called "The Wells Point", with video podcasts and other useful information for photographers. Check it out !! To learn more about David or see his work go to: www.DavidHWells.com or email him at: david@davidHwells.com.