I'm Interested !!

So,

What's Next and What

is it Going to Cost Me?
Not as much as you'd expect, really. Exact price will vary depending on which workshop you choose (and how much travel is involved). However, cost for the entire package for 10 days (including the two travel days) generally runs from approximately US $1,825 to US $2,095 - THIS DOES NOT INCLUDE AIRFARE. The price includes tuition, lodging in lovely colonial style small hotels (double occupancy), a hearty breakfast each morning, ground transportation (yes, we pick you up at the airport, too), and some pretty interesting cultural experiences.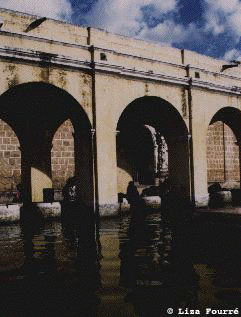 Over the years, we've had an amazing number of people come back and join us for another workshop - sometime the same one over and over - others take a different class each year. It's so much fun to see them again that we take off $50 for returnees. We have folks coming back this year for fourth and fifth time. WOW !!!

We also have our 'Buddy Discount'. If you've already attended one of our workshops, come back and bring a friend - you'll get $50 off the tuition of your workshop.

Now just send in the

registration form and a $500 deposit ASAP!! As soon as we receive it, we'll send you more information about the workshop of your choice and you'll be on your way!

And then there is booking your air

First of all, just a reminder that you do need to wait until we have called your workshop a go before purchasing your air. Many of our participants are internationally travel savvy and have their favorite websites for purchasing tickets, or preferred airlines that they like to garner miles with, etc.... And that is great !! In fact, if you have some tips to share with us, please do so. I'd be happy to add them to this page.

Here are a few tips for those who might be looking for some help in the travel department.

1/ We highly recommend signing up for airfare alerts. Prices are so up and down these days, and an email alert regarding a drop in price
to GUA has saved me hundreds of dollars more than once. Although, Spirit Airlines always has the cheapest fares so I'm not sure I'll be alerted anymore for price drops on AA and United and Delta.
Here is an article on how to compare alert sites: Airfarewatchdog.com

2/ Then there are the websites to book air, such as Cheap Air, Travelocity, CheapOAir, Expedia, Kayak, Bing Travel just to name a few. I like Cheap Air for it's simplicity Cheap Air.com and it has a $100 price drop guarantee.

3/ Our Weave Tour leader Karen Searle just saved hundreds of $$ with this site - so I just registered myself and am adding it here: One Travel You need to register to receive the special offers.

4/ FYI - The USA airlines that fly to GUA are: American (via MIA or DFW) United (via IAH) Delta (via ATL) and the discount airline Spirit Air (generally via FLL) Spirit Air.

** Remember that international tickets do NOT require a 14 day advance purchase for the best price.

** Also, pay attention to the day you purchase and the day you need to fly. We used to run our workshops from Friday to Sunday. However, those days are often the more expensive days to travel, and so we try to stick to weekdays for our travel days.

** And, airlines often release seats late Sunday or Monday, and it seems they often launch sales on Tuesdays. So Mondays and early Tuesdays are good days to look and snap up cheaper seats that weren't there over the weekend.

** Sometimes you can save money or get a better connection if you travel a day earlier than our normal travel day or stay a day later. Not to mention it's often great just to be able to stay a few extra days in lovely Antigua. Let us know if you decide to do that so we can help you book additional days at the hotel.

We've had many participants fly in with other Latin American airlines without any problems.

Good luck booking your air and be sure and let me now when you have, so I can arrange your transfer from the airport to hotel in Antigua.