Help Out Some Families
Ok, It's about time I update this page.... It's June 2010 and I last wrote about my two families back in 2004. Things have changed since then. One, many of the kids I cared for have grown up and are now able to take care of themselves, or at least need to be responsible for their own decisions. They don't live at our house anymore. I don't provide food (they often came for lunch) or a weekly allowance anymore. And, I've run out of steam. I can't do all the things I used to. But what I am keeping up with is: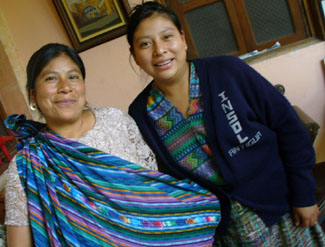 1/ Helping find folks for Lidia and Pancho's children to continue their education. A few years ago I noticed Sindy was no longer in school. I asked Lidia why, and she explained that they didn't have the money for tuition. So I said, let me see if I can do something about that. Since then a few generous folks have contributed to Sindy and now Jacqueline's education. Sindy was able to attend Colegio Evangelio Mixto Esmirna (Lidia's choice) in San Antonio Aguas Caliente. Those who contributed paid for the tuition, school supplies and school uniform. After they both graduated from that school, they went on to secundo basico at INSOL near Antigua. It is tuition free, but we've paid for uniform, school supplies and bus fare daily from Santa Catarina Barahona to Antigua. Here's a picture of Sindy in her school uniform with Lidia. Sindy has now graduated in education. She taught at the local school in Santa Catarina Barahona,, married the director of the school, just had a lovely baby girl (Nov 2013) named Candy and is still teaching part time. Jacqueline is in chef school at and David Forgay helps with her school costs.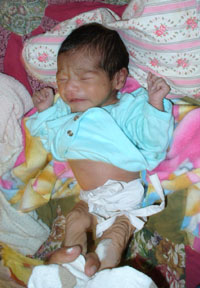 I'll just list here the folks who have over the past few years helped out: Daniel Tate, Helene Metivier, Kathy Thompson, Tom Fourre, Steve Laveson, Leslie Isenstein, Steve Northup, Warren Capps church, Charlotte Simpson, Ann Hutchins, Jamie Johnson, Nancy Bonnema, Judy Allen and if I've forgotten anyone please let me know !!!

Also, Monica (from the story below) now works for me part time at our house and there is always a crisis in that family. Her sister Maria is very developmentally delayed. The way I describe her is she'd be living in a group home if she lived in the USA. She has children (father unknown) she can not possibly care for. Her third was only 4 lbs and dying so we went up to her house, and honestly that baby was very close to death. None of us thought she'd make the night. So, we brought the baby to my house. Stopped on the way for a bottle, formula, diapers. We fed her and loved her and Monica is going to adopt her (hopefully) and my brother Tom Fourre and Ann Hutchins helped with baby formula (very expensive) expenses. Otherwise they feed her regular milk the first year. I'm simply going to make a general list of the things that over the years were paid for. I'd like folks to know where money went. I've kept lists (I couldn't survive without excel). Back in 2003 and 2004 I paid for a lot of school expenses, clothing, basics like shampoo and food for Ileana, Walter, Armando and Evelyn. The kids would get sick and need money for medicine. Ileana was told to leave the orphanage (she has mental health issues) so I paid Dona Filo to take her into her home. Other times Ileana wanted to go on a school field trip and needed the money. All those things that kids needs. I gave them a biweekly allowance for years. However, they've grown up and I am sorry to say there were issues of stealing (my camera, cash and things just kept disappearing) ....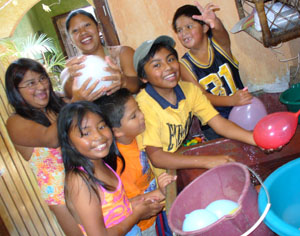 The fun part, in addition to knowing you are making a huge difference in someone's life, was that we had a fun, full house. Muy alegre, as they say here. Which was great for my kids. This is Marivel (Zoila's daughter who helped me after Zoila died) with my kids and Evelyn and Armando. We had many a water balloon fight going in the garden. But, also I needed to start paying better attention to my own children. These kids always were in some major crisis. And I mean major. Abusive family members, trying to get Evelyn out of a bad orphanage, infections w blue vein lines running from them (that will kill you !) not enough food to eat, wearing old shoes 3 sizes too big because there weren't any others... the list is endless... so that I was always telling my own kids to wait ,,,, actually as I am now writing this and Tommy wants something.....

WROTE THIS BACK IN 2004: I've been helping - actually, more than helping, sort of like I adopted, two local families for many years now. Both are situations of children who have been neglected, abused or left by their parent (in both cases the more responsible parent died.) They spend a lot of time at our home, I feed them, provide clothes and often additional money for school, medical purposes etc.....

I can never provide as much as I'd like, and/or as much as they need.... So, I decided to just put this out there and see if anyone would like to help out with these two families....

Here are their stories::

Iliana, Walter, Armando and Eveyln -- I've been their main support, along with their older brother Omar, for the past 7 years - ever since their mother died and left them with their alcoholic and abusive father. Their mother, Berta, had at one time worked for me taking care of Jessenia. That's how I know them. When Berta died, Evelyn was only 2 months old and was repeatedly in the hospital for malnutrition etc.... she'd get very sick, go to the hospital, get better, get out and get sick again. This family lived in very poor conditions with their father. I took the baby to live with us so she could get better. She became fat and happy and we adored her !!! (Actually, having her with us persuaded me that I could handle a second child - and shortly thereafter, along came my Tommy boy). One of the hardest things I've had to do was return her to her family. Her father insisted and she cried and cried when I brought her back. To make a long story short.. the father became more and more abusive until finally all the kids came to stay with us and were afraid of him. He said he'd go to the authorities and say I stole his children and also my two adopted children.... which is a very dangerous allegation in Guatemala. I was told to leave my house so went to hid out w my kids at a friends. !!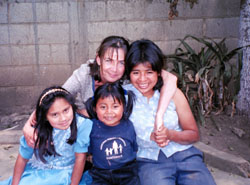 Because the family was affiliated with a local project, Godchild (now Common Hope) they took over and the case went into the court system, and the children were sent to an orphanage, Nuestros Pequenos Hermanos, and has been a pretty negative situation for their family. The children are only allowed 3 visits annually by family or friends - on specific days so if you aren't able to make it that day you are out of luck !! They are never allowed to leave for a visit, and are allowed very limited time to see each other within the orphanage (boys and girls are separated). It was heartbreaking for me. I honestly couldn't sleep nites worrying about Evelyn. I went from being their mom to not being allowed to see them !! The oldest girl has a history of mental health issues and was told to leave the orphanage after her 18th birthday. I paid Dona Filo to take her into her family. Then she would live with us when we were in Antigua. (Finally, after two years out now she is now doing really well). The second child, Walter, ran away. I have tried and tried and tried to visit and get the remaining two out of that orphanage and with a lovely foster care family or another nearby orphanage that will at least allow them to have visitors. Nothing but uncooperation and roadblocks. (Joey and I visiting on a visit day).
Finally, it seems now (end of the year 2004) like the oldest brother is going to be able to get the last two children out of the orphanage. But they will need some additional financial help. I give Iliana and Walter some money on a bi-weekly basis. But it isn't enough, and I just don't have more extra money right now.
Second family... I've also known for about 15 years now. Mother had 8 children, father alcoholic,, and when the middle girl (Monica) was about 10 years old, the mother left the four youngest in Monica's care and took off for another village to live with another man. (She's since had 3 more children with him). Again, long story short... I've provided them with clothes, money occasionally, but not that much, and when Monica was really in dire straits about a year ago, I told her to come work for me (I figured better to have her at the house on a regular basis for food etc..... than just give her money) so she comes two days a week. Now, at age 19, she has an 11 month old baby and is pregnant with her second. She is not caring all that well for her first, (when we arrived in October he was malnourished and is very small for an almost 1 year old - doesn't crawl, no teeth yet) so I've bought formula, baby cereal and I hired Iliana to take care of the baby Cristian, during the day when Monica works with us. SO.... we have a full house. I'm personally maxed... but these two families need more ...... (My Tommy with Monica's two boys - he's like a big brother to them)
Anybody interested in helping out????
fourre@artguat.org