Drawing, Painting and Mixed Media/Collage
ARTFUL SELF EXPLORATION using SOULCOLLAGE® - So what is SoulCollage® ?? It is an intuitive art form that begins as simple creative fun making a deck of cards. It is a way of combining art, collage, symbolism and journaling and discovering that somehow in the process you've better learned how to access your own creative intuition.
Artist, retreat center owner and instructor Kathleen Grittner sees the creative process as a means of maintaining balance and wellness of mind, body and spirit. The healing power of the arts has enriched her life and the lives of those of all ages whom she has assisted in expressing their own unique creativity. Consequently, she weaves throughout the class opportunities for students to learn from each other, and share experiences. She utilizes meditation/mindful/contemplative practice with a focus on cultivating creativity, openness and compassion, being mindful in everything we do and learning to live an authentic life wholeheartedly. The end result is often much more than our students expected!!
Morning classes are relaxing and full of creative play, Kathleen presents a variety of simple ways for you to explore yourself artfully, while immersed in the beautiful world of imagery and intuition. You'll spend afternoons taking in the cultural riches of Guatemala, both in Antigua and at Lake Atitlan, which of course then provides more ideas and inspiration for your class the next day! You will return home inspired by personal imagery, colorful new experiences and tools to continue your artful self-exploration that will help you navigate no matter where you are.
Click here for more information on Kathleen's March 2014 class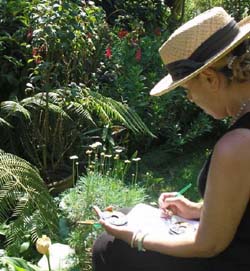 BOTANICAL ARTS AND NATURE SKETCHING THE BEAUTY OF GUATEMALA - Join popular instructor and acclaimed artist Cynthia Padilla and like-minded art and nature enthusiasts documenting both the natural beauty and cultivated grounds and colonial gardens of Antigua, Guatemala. You'll spend unhurried time, lulled by the gentle breezes of "the land of eternal spring" and the soothing sounds of splashing fountains working 'en plein air' (translate- -in intimate courtyard gardens) and at a nearby bromeliad filled coffee finca (farm).
Our days begin with an introduction of materials and a demo of technique (pastels, pencil, pen & ink, watercolor). The instructor's step-by-step approach guides all levels to extend their range to include botanical renderings of fruit, flower and visiting insect, diminutive watercolor landscapes, pen & ink renderings of the ancient architecture and well composed vignettes (little scenes). Cynthia works miracles with complete beginners, even those without previous art experience!! And even if you are an accomplished artist, you'll be thrilled with this unique art and cultural adventure that awaits you behind the ancient walls of Antigua.
Check out some fun images of Cynthia's Work and Previous Classes.
Click here for more information on Cynthia's October 2012 class
FEARLESS ART !!! CAPTURING THE SPIRIT OF GUATEMALA THROUGH ACRYLIC MIXED MEDIA AND COLLAGE - Find your own personal artistic expression through acrylic and water media layered on paper surfaces and then turn them into dimensional works of art with the guidance of popular instructor Kim Grant.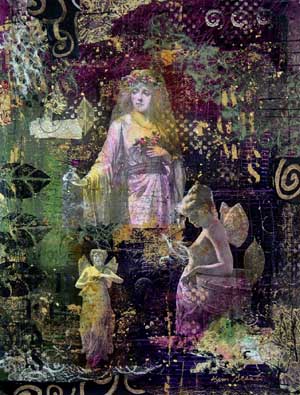 Kim will teach you how to create rich textures and interesting effects with innovative collage techniques. Participants will learn to combine a wide range of media, such as gesso, gels, paints, photos, and papers. With collage you will be cutting up, tearing out and altering an assortment of images from various sources into an intriguing exploration of layered color and texture. Various approaches to these processes will be shown in class through daily demonstrations and original artwork.
Your art will be inspired by the colorful and exotic surroundings you'll find yourself in. You'll utilize the interesting things you'll find at the markets - like fabulous Guatemalan handwoven fabrics, beads and milagros. This workshop is appropriate for all art skill levels and backgrounds. It's a perfect opportunity for those with little art experience, but with imagination and a desire to learn, create and have fun with the arts. More accomplished artists will learn new skills and techniques and discover ways to incorporate them into their own work.
Click here for more information on Kim's March 2012 class
PORTRAIT SKETCHING AND WATERCOLOR PAINTING - Whether you are an adventurous beginner or an accomplished artist wanting to hone your skills as a portrait painter in the exciting environs of Guatemala, this workshop is for you. Join award winning artist Sue Sill for a wonderful experience exploring the Maya culture by getting to know people, and translate what we see and learn into colorful watercolor paintings that honor their centuries old traditions. Sue is a patient instructor and will take you through the steps needed to come away with an accomplished portrait painting. Her skill lies in helping non-portrait painters, become portrait painters.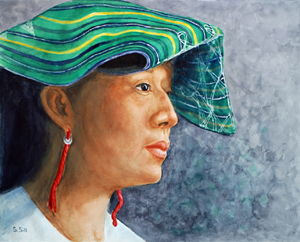 So don't be intimidated !! You'll begin with quick sketches, and then during daily class demonstrations, learn to add more detail. Sue will cover proportion, tips on how to capture your subject's face, color values and choosing and mixing watercolors to achieve the colors you need for stunning work. You'll often draw from photographs (although we'll also sketch with live models) so Sue begins by showing you how to draw from a photograph. We'll go out together to shoot images - in the Mayan markets, in people's homes (photographer Liza Fourré will be available to help with photo tips) or you may sketch from existing photos.
This class is not restricted to drawing portraits. Participants are free to choose whatever subject they fancy - there are many lovely ruins, gardens and lake views to paint. We have to be flexible because It is true that our instructor Sue took our botanical drawing class just two years ago, but was so enamored with the local Mayan, she changed her focus to drawing people !!!
Click here for more information on Sue's July 2012 class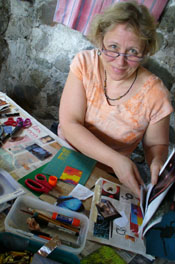 BOOK ALTERING, COLLAGE, MINI-ALTARS AND MORE - Would you like a fun and rewarding art cultural experience in Guatemala ??? Then come join artist and designer Kit Davey for this adventure and learn easy techniques for collage and assemblage, using paper, paint and small 3-D objects. Art sessions will be a combination of instructor demonstrations, time for individual experimenting, sharing techniques and ideas, and together exploring Antigua for materials and inspiration. We'll go to the markets to find treasures that you may incorporate into your artwork, which just may become your travel journal - an artistic expression of all the new images and experiences you encounter while in Guatemala.
Some of the techniques you'll learn include paper weaving, rubbings, layering paint and paper, sewing on paper, pop-ups, and incorporating metal, wire, and glass beads into your work (This is only a partial list of the techniques and projects!). Projects will include book altering, embellishing old photos, keeping a trip journal, match box books, making artist trading cards and mail art and creating mini-altars. Your theme-based projects will expand your creativity and help you practice your new techniques. You'll come home with many completed works, lots of enthusiasm and new ideas to use in your art. This workshop is appropriate for both beginning and experienced artists (or any other kind of artist for that matter.
Click here for more information on Kit's March 2010 class
PAINTED BLESSINGS: THE ART OF THE RETABLO AND EX VOTOS - A voice cries out for help..." Just help me get through this crisis!! this hour!! " Somehow that call is heard. In Latin America, thanks must then be given, and often takes the form of a small work of art called Ex Voto, a public display of an answered prayer. Retablos, on the other hand, are small paintings on humble scraps of wood or salvaged tin that are painted to petition a specific saint for a specific request. They may be displayed in home altars with burning candles. Both ex votos and retablos were introduced to the indigenous by the Spanish as they converted to Catholicism back in the 17th century.
Join artist Cynthia Padilla , for a week immersed in a traditionally Catholic culture (Guatemalan), in a town (Antigua) where there are centuries old churches (filled with centuries old statues of many Catholic saints (santos) on every block), and learn the folk art tradition of painting retablos and ex votos. Cynthia will show you how to use acrylic paints on wood and then gild the finished retablo with silver or gold metal leaf.
Cynthia provides the names of a variety of saints and what they are patron saints for (ie St Christopher for travelers) so that you can find the appropriate "santos" to commemorate loved ones, special requests or events in your life. DonÕt worry, the most engaging retablos were those painted by naive or untrained itinerant artists, therefore drawing or painting skills are not required!
COLONIAL RUINS, COBBLESTONE STREETS AND OTHER PICTURESQUE PAINTINGS - Join artist and popular instructor Sergio A. Solorzano for a visually exciting and unforgettable artistic experience at one of the most gorgeous 'on-location' locations in the world. This workshop focuses on learning and practicing the skills necessary to successfully paint the wonderful textures and colors found on old walls, cobblestone roads, red-tiled roofs, flower-filled courtyard gardens with many pilas and fountains, and landscapes with volcanoes and mountains -- details all found in abundance in Antigua.
Sergio begins each class with a demonstration of how to create a specific type of texture, such as old brick, rocks, crumbling paint, tiles etc... He will demonstrate in both oil/acrylics and watercolor. Then, as a class, you'll paint at a variety of nearby locations including the centuries old convent ruins of Santa Clara and Capuchinas, the luscious gardens of Casa Santo Domingo and Quinta de las Flores and at Tanque de la Union - where indigenous women still gather daily to wash their families clothes. Participants may expect to complete at least two 16x20 paintings during this workshop.
EXPLORING THE FANTASY IN YOUR ART - Ever feel like you don't need help with your technique, but with what to create?? This workshop is designed for artists ready to explore how to more fully utilize their imagination and dreams for subject matter. Instructor and Guatemalan artist Deborah Du Flon will demonstrate how she utilizes poetry, color and composition to bring her feelings closer or put them away. Deborah is often asked where she gets the ideas for her lithe and spirit-filled paintings. Often, they are inspired by dreams.
Participants will read legends aloud, both Guatemalan and their own, and together discuss dreams, symbolism and how to paint around the feelings they arouse. Deb will work with students individually to help them creatively express the emotions they would like to portray and better utilize their imagination and dreams to explore the twists and turns of their creative minds.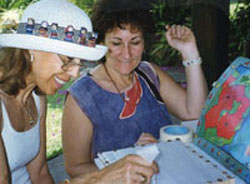 HAND PAINTING ON SILK - Join British artist and designer Hilary Simon for a wonderful experience learning to paint on silk using the French technique of 'serti'. Serti means a gum resistant line. This media is easy to grasp and a lot of fun for both experienced and inexperienced artists. Participants begin by learning to master applying the gum resist line. The line controls the colour on the fabric and forms a barrier for the dyes. It is applied with a pipette which holds the gum. After a demonstration, and with lots of encouraging help from Hilary, you'll practice on small pieces of silk - each student working at their own pace.
The next stage is preparing a design and applying it onto the stretched silk. Progress is gained in little time - with marvelous and immediate results. The dyes are vibrant (so appropriate to work in Guatemala!) and you'll learn and experiment with a variety of methods to obtain unusual special effects. Painting on silk is very rewarding. The dyes flow beautifully onto the silk and colours merge and wonderful designs are created as if by magic!! Participants can expect to complete two or three designs/paintings during this workshop.
WATERCOLORS/ INK AND WASH - Here's a watercolor workshops for those looking to work on the basics of this medium. Instructor Marian Alstad works with each student's ability, but likes to start with the basics. She'll cover the elements of composition, value studies and demonstrate different ways to put washes on paper. She'll explain how to choose a paintable subject. This is particularily important when painting outdoors, as we do in this workshop. Artists often become overwhelmed when faced with too much detail.
You'll then concentrate on learning to see less - rather than more. With that new skill, you'll learn to quickly capture the essence of the subject in front of you by sketching with ink and adding color washes. Marian's skill lies in helping her students paint realistically -- but with a looser style.
Click here for utube video on Marian's Interview at Edina Art Center
Click here for more information on Marian's March 2013 class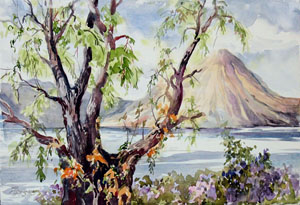 EXPRESS YOURSELF WITH WATERCOLORS - Join artist and enthusiastic and inspirational instructor Sheila Parsons on this watercolor adventure as she teaches you not only the technical skills needed to improve your watercolor paintings, but more importantly, Sheila will teach you how to successfully design and compose your work.

"The easy part of painting is learning the technical skills," Sheila says. "The more difficult part is learning to draw the viewer into your painting. Inviting them to look and see the essence in a glance, but then keeping their attention long enough so that they'll continue to study the painting, looking more carefully at the details." Each class begins with a short lecture and demonstration,and then Shelia works with each individual participant – giving them whatever help they need. She weaves technical topics, such as color contrast, perspective, mixing colors throughout the class time. Sheila developed her artistic and teaching style working with acclaimed artist Milford Zornes for many years. She assisted him in over 40 of his workshops !! Her students praise her for her inspiration – often telling her they've achieved more than they thought they could. This workshop is appropriate for artists of all skill levels.

Click here for Sheila's Watercolor Paint Anything DVD

Click here for more information on Sheila's July 2013 class