Tienda / Cool Things to Buy from Guatemala
Well, I've finally put together a list of the woven goods (and pictures) that I have accumulated from Guatemala but brought back here to Minneapolis. Somehow, over the 20 years of my businesses, I have acquired a lot of textiles that I don't need, and never intended to use, simply because a weaver, or someone I met who was selling textiles, needed a sale.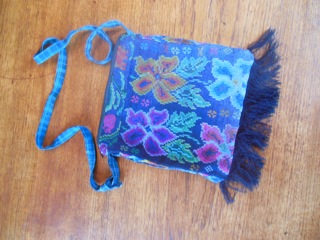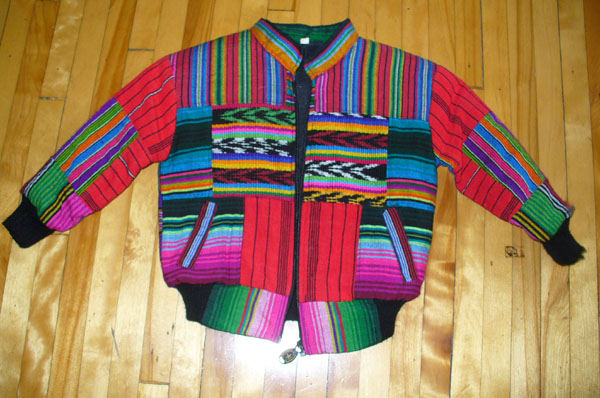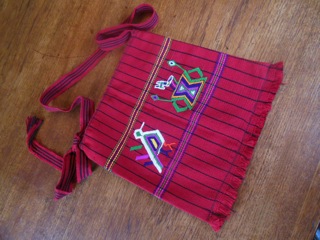 So in the interest of clearing out my house (am getting it ready to sell), making a little money, and since it is December, I am hoping there are folks out there interested in some of these lovely textiles for their holiday shopping.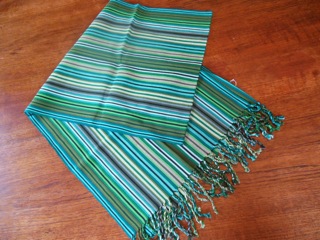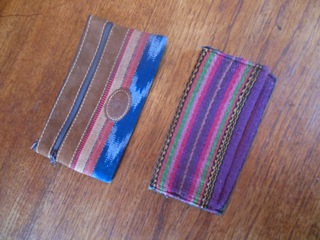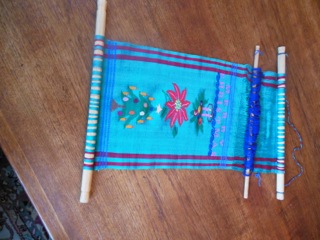 For those who have been to Guatemala with us, you are familiar with the woven goods Lidia and her family (Sindy, Isrealita, Jaci etc...) weave, wall hangings, table runners, coin purses etc... I have some of their work, but also have weavings from the coop we visit in Xenacoj and from the natural dye coops we visit in San Juan la Laguna. And also things I've picked up in markets here and there.
I have lots of lovely little purses selling from $12 - $18. Coin purses from $3 - $8. Two padded computer bags - $15 each. Lovely huipiles (the backstrap woven traditional blouse) and two cortes (loom woven wrap around skirt). Feel free to email or call and ask about items. Prices are very reasonable compared to what I found on the internet (especially for the huipiles and bedspread). Shipping would be extra.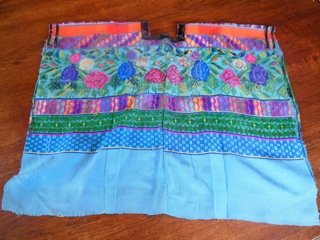 Also I apologize for the quality of the pics and this page. I just threw all the items on my dining room table and took a snapshot... and obviously lack design skills in html !! If you are in the Minneapolis area please just give me a buzz if you'd like to take a look at what I have.. 612 825 5633. We are in SW Minneapolis.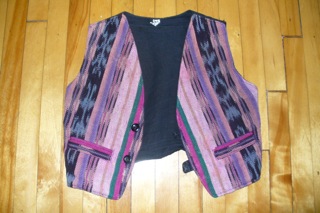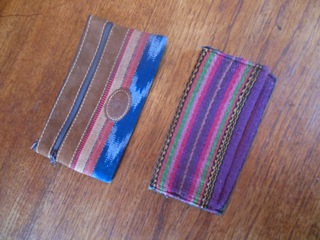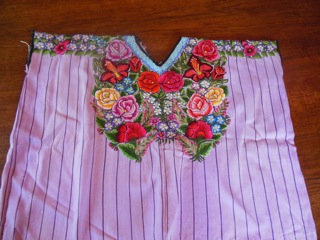 I have no interest in doing this as a side business. I simply need to clear out all the stuff in my house so i can sell it (the house),, and I certainly can use the extra money !! So here goes....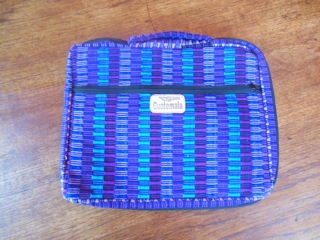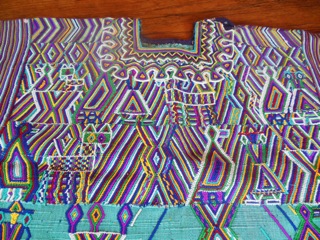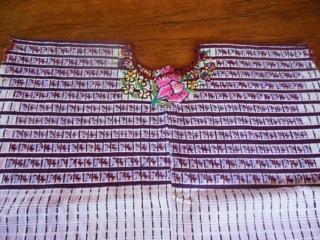 HUIPILES 1/ Green – San Juan Cotzal or Chajul $75 SOLD 2/ Light mauve with embroidery flowers – Santiago Atitlan $60 3/ Deep red – San Lucas Toliman $75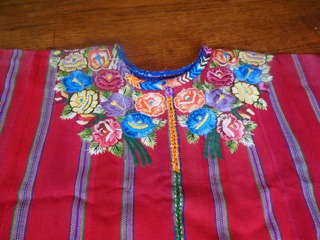 4/ Green/blue – with red strip on top,, black velvet collar worn - Comalapa maybe ?? $40 5/ Yellow – san juan sacatepequez $75 SOLD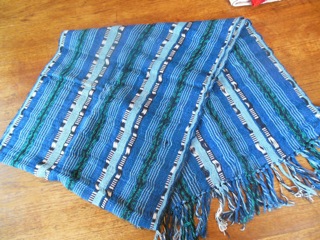 6/ Chichicastenango – very good condition .. browns $130 SOLD 7/ Santiago Atitlan - tiny animals embroidery style very light mauve color $60 8/ small child's size from Patzun (red w floral embroidery) $50 9/ even smaller child's size from Patzun (red w stripes) $25 PLACEMATS 2 placemats w napkins in fruit rings – woven by Lidia $15 each .. $ 25 for the set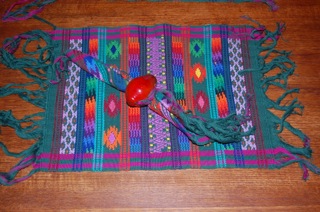 WEAVINGS 3 tortilla wrap weavings,, one made by Lidia green w San Antonio design, other dark purple and simple orange stripped .. 20"x20"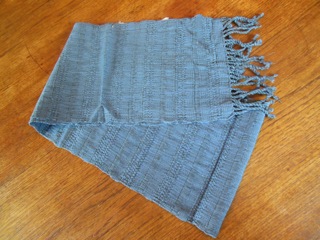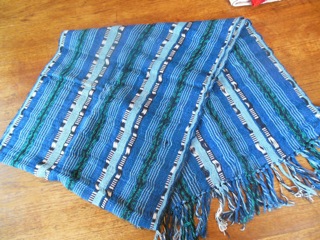 Green holiday says 'Merry Christmas' wall hanging 12" x 23"
BAGS PURSES WALLETS 10 – bags/purses various sizes from 6" x 8" to 9" x 10" either blue or brown 1 large bag / purse 11" x 15 " 1 red nebaj bag – 12" x 13" 1 green purse woven by lidia 12" x 9 " san antonio design 6 woven coin purses or wallets -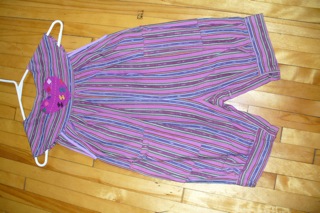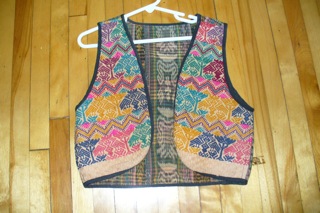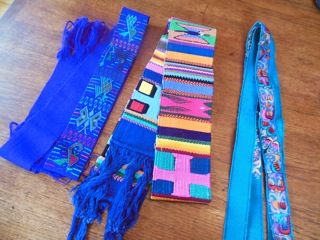 CORTE 42" long x 180" ( 14') embroidered on bottom -- 2 of them -$85 each - both very nice !!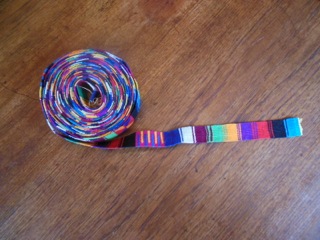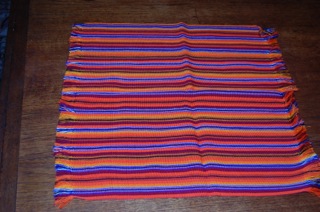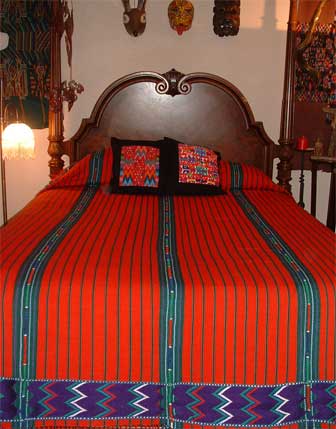 BEDSPREAD - SOLD Deep red hand woven – 69" wide by 8 feet long … $125 (not my own picture - took off internet but it is the same bedspread)
BELTS 7 woven belts – various sizes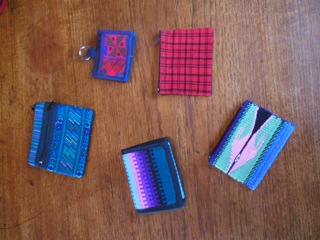 SCARVES and SHAWLS 10 could be table runners or shawls or scarves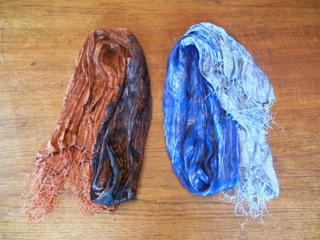 3 silky type scarves for around neck (2 SOLD)